Obagi Tretinoin vs Retinol: What's the difference ?
What is the difference between retinol and tretinoin (Retin A)?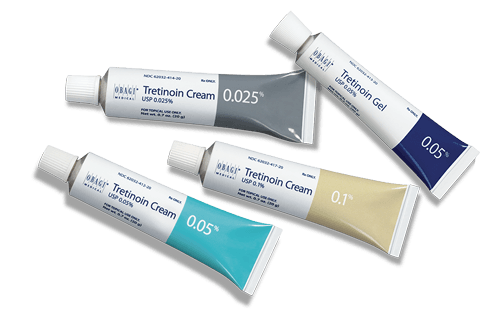 It is important to first distinguish what these products are: Retin A is a brand name for the drug, tretinoin. Retin-A (tretinoin) is a form of vitamin A that helps the skin renew itself. The Obagi brand of tretinoin cream is used to reduce the appearance of fine wrinkles and mottled skin discoloration, and to make rough facial skin feel smoother.
Tretinoin is an Rx product and can be purchased from, or prescribed by, a physician.
Retinol – the strongest form of retinoid, is the over-the-counter, cosmetic version of tretinoin. Many people confuse retinol with tretinoin. Retinol and retinoic acid are related but distinctly different. First retinol needs to be converted by skin enzymes into the even stronger form : Retinoic Acid, which is what causes the irritation. Only retinoic acid directly affects skin cells and helps reduce signs of aging. Tretinoin is a retinoic acid and does not need to go through this conversion.
Retinol is a weaker, over the counter version of tretinoin, a prescription vitamin A derivative that is highly effective in reversing sun damage and signs of aging. Tretinoin decreases fine lines, evens skin color, improves texture, tightens pores, and stimulates blood flow and collagen production. However, quite a few people cannot tolerate tretinoin because it can be highly irritating and drying. Retinol is milder; while the results may not be as dramatic, more people tolerate it well. Like tretinoin, retinol encourages skin cell turnover; this new skin is delicate and should not be exposed to the sun. That is why these ingredients should only be found in products intended for night use.
In theory, one should be able to apply retinol to the skin, wait till it gets converted to retinoic acid, and eventually get the known skin benefits of the latter. In reality, the conversion rate is low and varies greatly among individuals. Additionally, when exposed to air either during storage or use, much retinol may get oxidized or degraded even before it can become available for conversion to retinoic acid in the skin. As a result, fewer people respond to most retinol creams than to retinoic acid (tretinoin, Retin A), and the degree of response tends to be less too.
Something else to consider is that retinol, like all vitamin A derivatives, is NOT recommended for women who are pregnant or breastfeeding. That includes all skin care products, even serums and night creams.
Obagi Medical has developed high strength retinol formulas that are more effective than run-of-the-mill retinol products. Additionally, Obagi Medical's retinol is packaged in an air tight, pump dispenser and has been formulated in an entrapped, slow release delivery system that provides maximum strength retinol without irritation.
Conclusion
Retinoic acid(tretinoin) (sold as Retin A, Obagi and other brands) appears to provide a better shot at eliminating fine lines and reducing wrinkles than even the best retinol formulations. Tretinoin users who experience skin irritation and/or chronic peeling can work to eliminate these side effects by reducing the concentration and/or frequency of application while still experiencing the benefits of this Rx strength formulation versus the less effective, cosmetic strength of retinol. Obagi provides a varied spectrum of tretinoin cream strengths with the Obagi Tretinoin 0.05% and Obagi Tretinoin 0.1%.